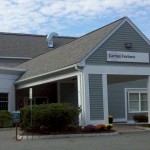 For the past few weeks I've had several Sandisk Sansa Clip+ MP3 players at the Good Samaritan Chemo Center in Foxboro MA in support of my mission to bring music to cancer patients. I introduced myself to the Director of Oncology at the Good Samaritan to explain my mission, and he was very receptive and supportive from the start. He then introduced me to the infusion nurses since they would have to support the program, and they were also receptive to the idea. Thanks Eric!
To date, several people have taken the opportunity to listen to music while undergoing their treatment when they normally wouldn't have. As I expected, most of the patients had never even used an MP3 player. This in fact was one of the reasons for my idea in the first place so that has gone according to plan. There is a learning curve on how to find music and otherwise control the player but that was fully expected. One of the nurses is especially interested in the players and has taken on the responsibility of managing them, charging them and showing the patients how to use them. This is a great help since I'm typically only there once or twice a week.
The added bonus for me is something that I didn't expect though. Regardless of whether the patients want to listen to music or not, they do tend to want to share their stories with me, and ask me
to share my story. In fact, I'd say this is becoming a bigger part of my program than the music itself! If there is one thing I've learned over the past few years is that cancer survivors share a common bond. I suppose it's much like motherhood or being in the military. You can only completely understand it if you have gone through it and this makes the patients want to talk to me. I enjoy this part of the interaction as much if not more than the interaction regarding music.